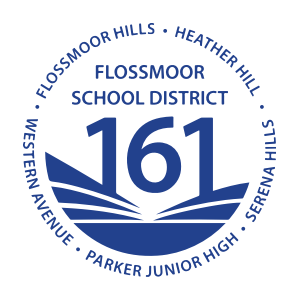 School Closed Until April 6
Flossmoor School District 161 News
Wednesday, March 18, 2020
March 13, 2020
Dear District 161 Parents and Guardians,
IMPORTANT ANNOUNCEMENT: All District 161 Schools will be closed from Monday, March 16th through Friday, April 3rd.
I know that this is a peculiar time in our district and community, but I want to assure you that we are prepared to take every precaution to keep our students, staff, and families safe. Please see the bold headings below for specific information regarding Event Cancellations, E-Learning, and other General Information. To clarify, this is a precautionary step and there are no confirmed cases of COVID-19 in District 161.
Event Cancellations: Beginning today, Friday, March 13th, all after school and evening events in District 161 schools are canceled through Friday, April 3rd. We will re-evaluate large gatherings before we return to school to determine if further cancellations are necessary.
E-Learning and Technology: The district's E-Learning Plan can be found here and will be in place beginning Monday, March 16 through Friday, March 20, and Monday, March 30, through Friday, April 3. E-Learning days will not take place during Spring Break, the week of Monday, March 23 through Friday, March 27.
We have been preparing to continue educational experiences for our students by gathering educational resources by grade level for students to work on at home. Class and work announcements will be sent to each child through the Canvas Learning Management System or through email. Class-specific information will come from your child's teacher[s]. We are currently working with Homewood-Flossmoor High School to determine a plan for the students who attend the high school for classes. Teachers will be online to respond to student and parent questions from 8am to 1pm during e-learning days.
We are sending home hard copy materials with K-2 students and teachers will send specific directions and assignments to the students and parents digitally. Self-guided activities can be found at the following links by grade level band: K-2, 3-5, 6-8.
Access to Buildings Limited: While school is cancelled, students and parents will not be allowed to access the schools as we work to clean and disinfect the buildings. If you need medications or other necessary items, please contact our district nurse, Kathy Knawa at 708-647-7009 or kknawa@sd161.org by Monday, March 16th.
Travel: The Centers for Disease Control [CDC] recommends that people reconsider travel abroad due to the international impact of COVID-19. Please use your best judgement when considering how to proceed with your plans. If you do travel, please check the CDC website for updated information upon your return.
Preventative Measures:
The best strategies to remain safe during this time are common sense hygiene practices. To minimize the spread of respiratory illnesses, including COVID-19, according to the IDPH:
Wash your hands often with soap and water for at least 20 seconds. If soap and water are not available, use an alcohol-based hand sanitizer with at least 60% alcohol.
Avoid touching your eyes, nose, and mouth with unwashed hands.
Avoid close contact with people who are sick.
Stay home when you are sick.
Cover your coughs and sneezes with a tissue and then promptly discard the tissue in the trash and wash your hands. If a tissue is unavailable, cough, or sneeze into your upper sleeve, not your hands.
Clean and disinfect frequently touched objects and hard surfaces.
General Information: Please check www.sd161.org for up-to-date information on the district's plans moving forward. If you personally feel ill or think that you have been exposed to COVID-19, please follow the recommendations from the Centers for Disease Control and Prevention.
This is a very challenging time for our community and this is a hurdle that we have not previously faced as an organization. It is imperative that we all do our part to keep our children and community safe during this time. Kindness, compassion, and patience are needed as we support each other through this time of uncertainty. As a district, we will share as much information with you as possible, so that you can make the best decisions for yourselves and your families.
If you have any questions or recommendations, please contact your building principal as needed. I am truly thankful for your partnership and support.
Sincerely,
Dr. Dana Smith, Superintendent