The Illinois Rental Payment Program provides financial assistance for rent to income-eligible Illinois renters and their landlord who have been impacted by the COVID-19 pandemic. Illinois renters may be eligible for up to $25,000 and 18 months of emergency rental payments under the program. This is a grant that does NOT have to be repaid. Applications are available until 11:59 p.m. on Sunday, January 8, 2022. Apply online at
www.illinoishousinghelp.org
. Learn more about the application process below:
https://youtu.be/OHyDLyLw7jA


Santa paid a special visit to Serena Hills School today to wish all a happy holiday, including his pal Gingy the gingerbread man!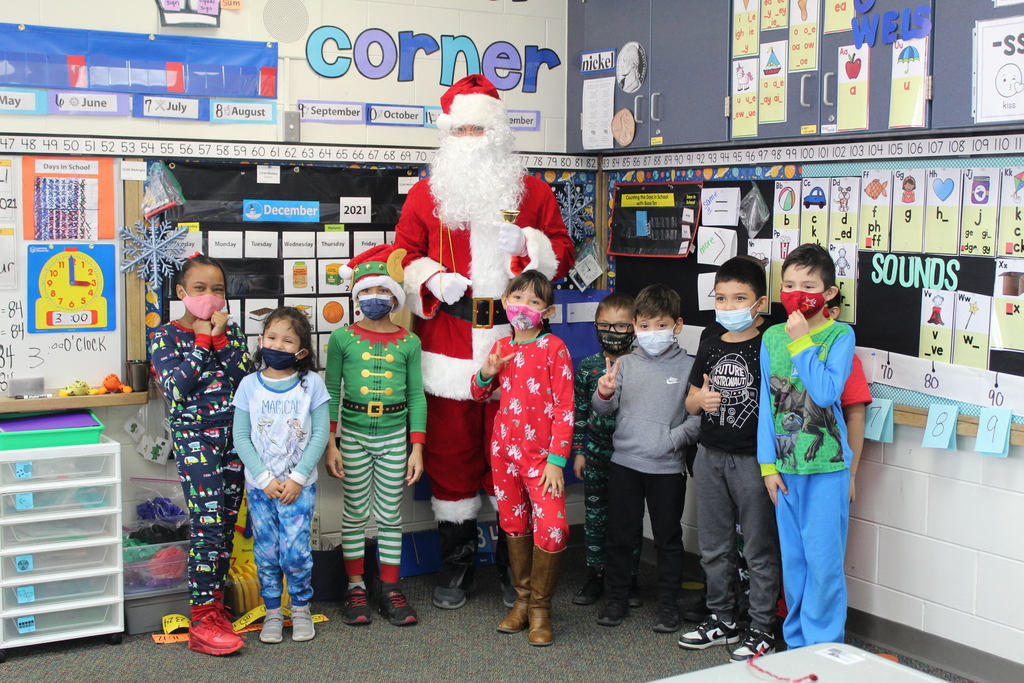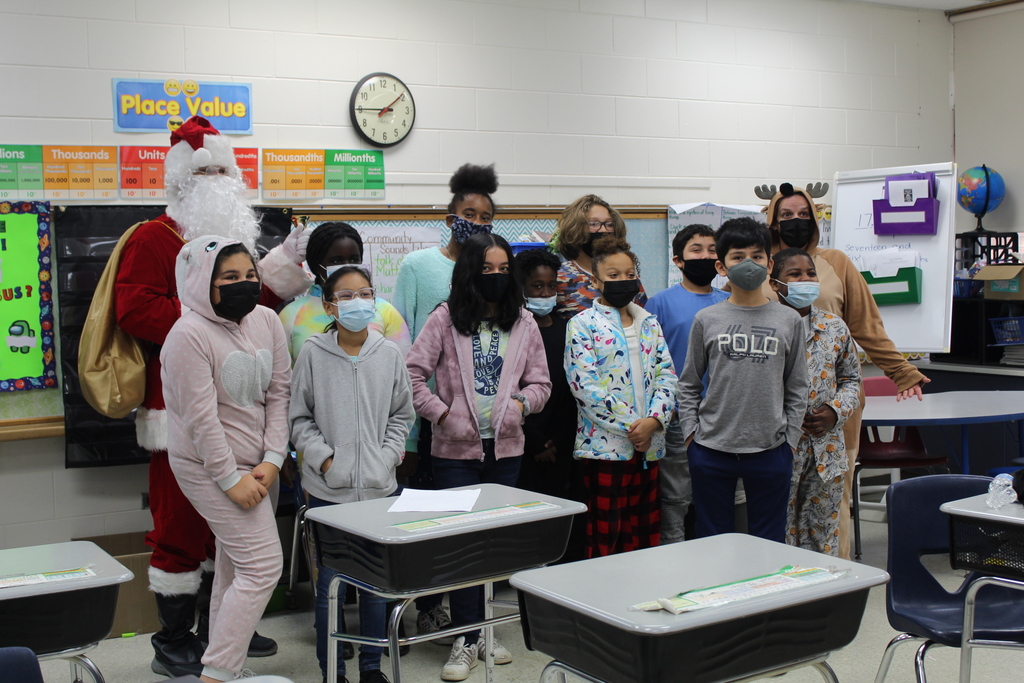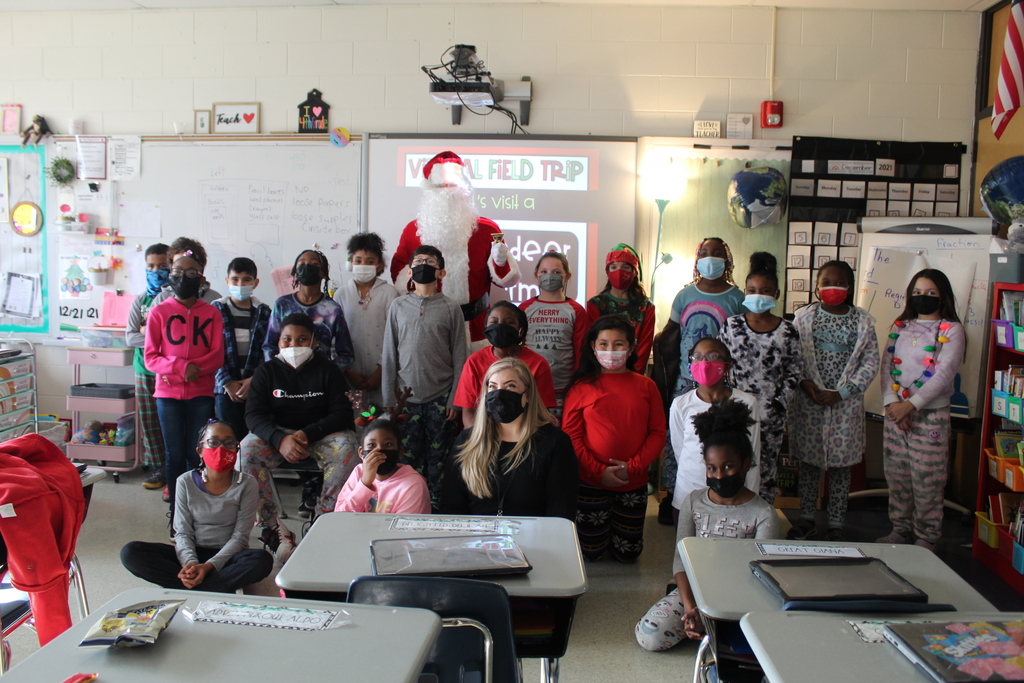 Reminder to all of our District 161 families that tomorrow, Tuesday, December 21 is the last day of student attendance before our winter break. Enjoy the winter break and have a happy holiday! See you in the new year!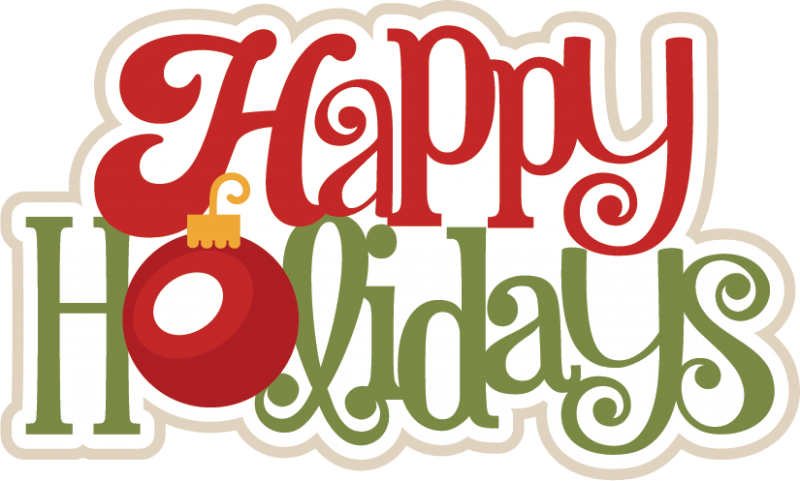 Flossmoor's new Holiday Lights Parade tradition kicks off tonight at 4:30 p.m. at Central Park Avenue and Elm Street. The fleet of police, fire and public works vehicles will travel through nearly every Flossmoor neighborhood adorned with holiday lights and displays. Set up some lawn chairs or a blanket and enjoy the evening of celebration. If the parade route doesn't pass by your house, the HF Park District has set up bleachers at Heather Hill School where you can watch.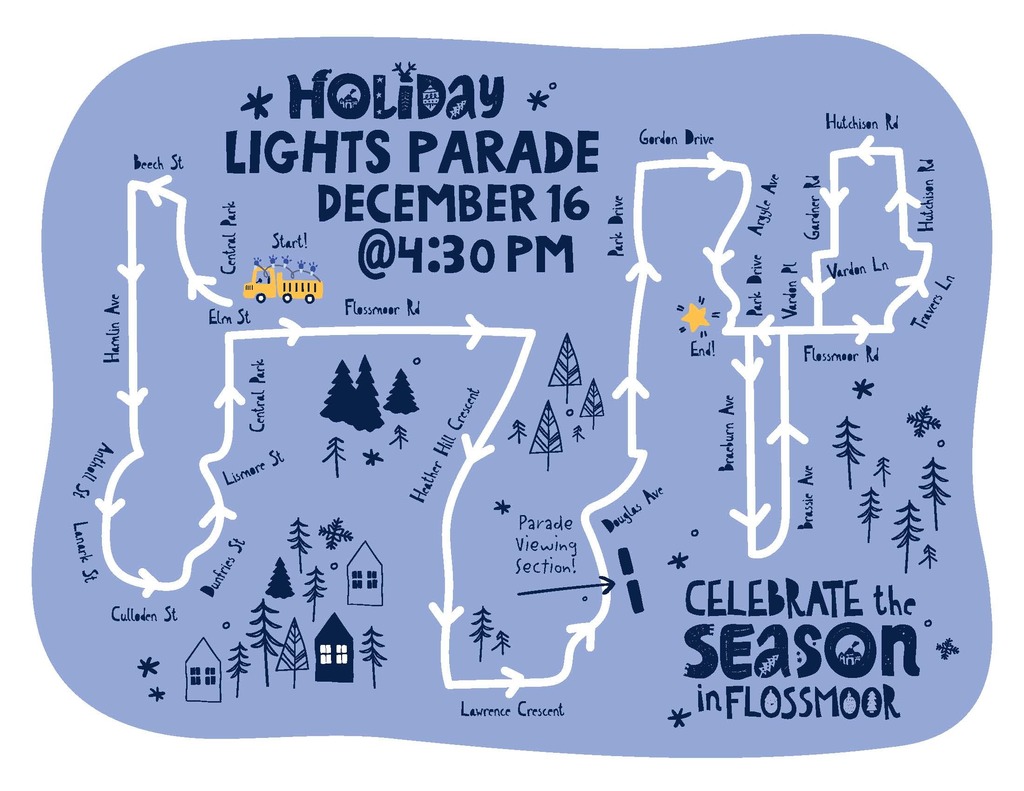 Flossmoor Hills third-grader Alana Cook meant business as Superintendent for the day! She enjoyed her tour of Parker Junior High School and couldn't believe how big everything was, especially the students! She made quite the impression on the Parker staff and made a strong bid for bringing recess to the junior high level. Great job as Superintendent, Alana!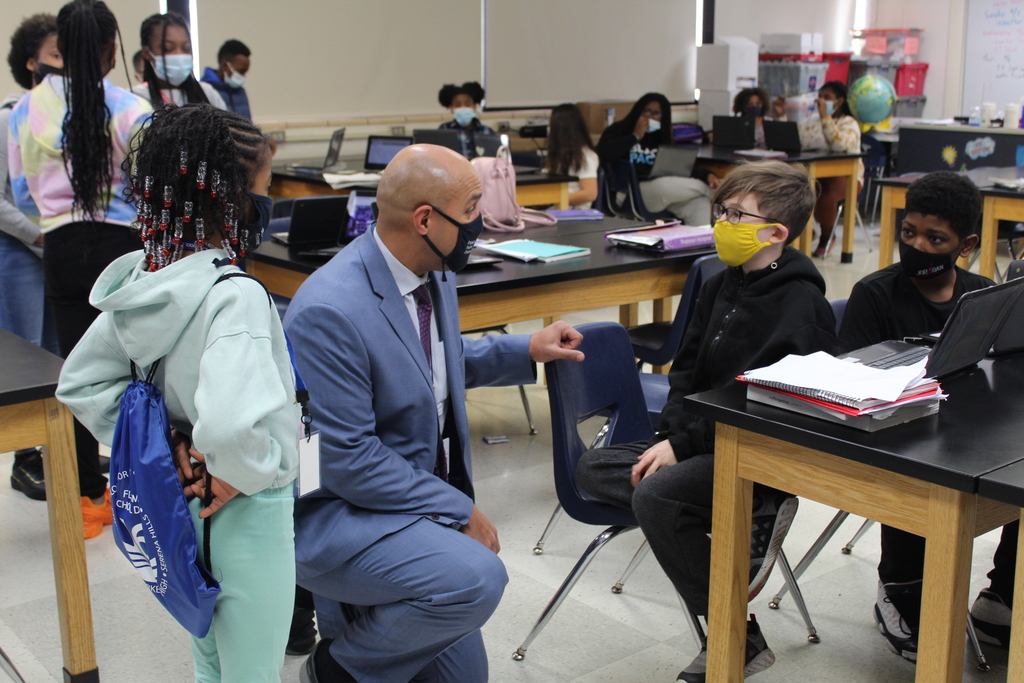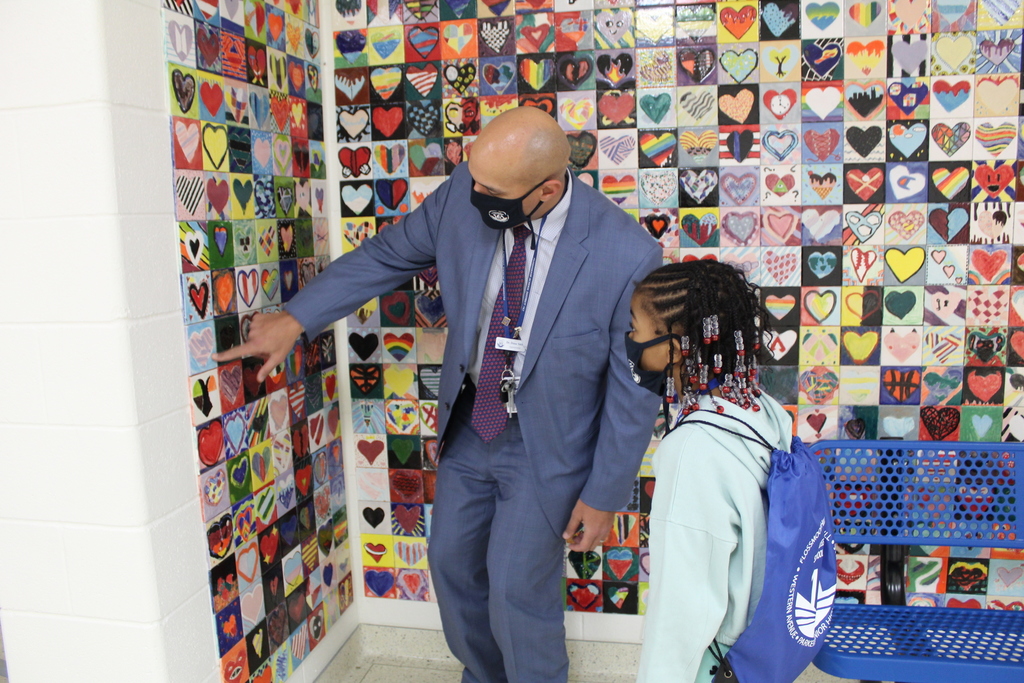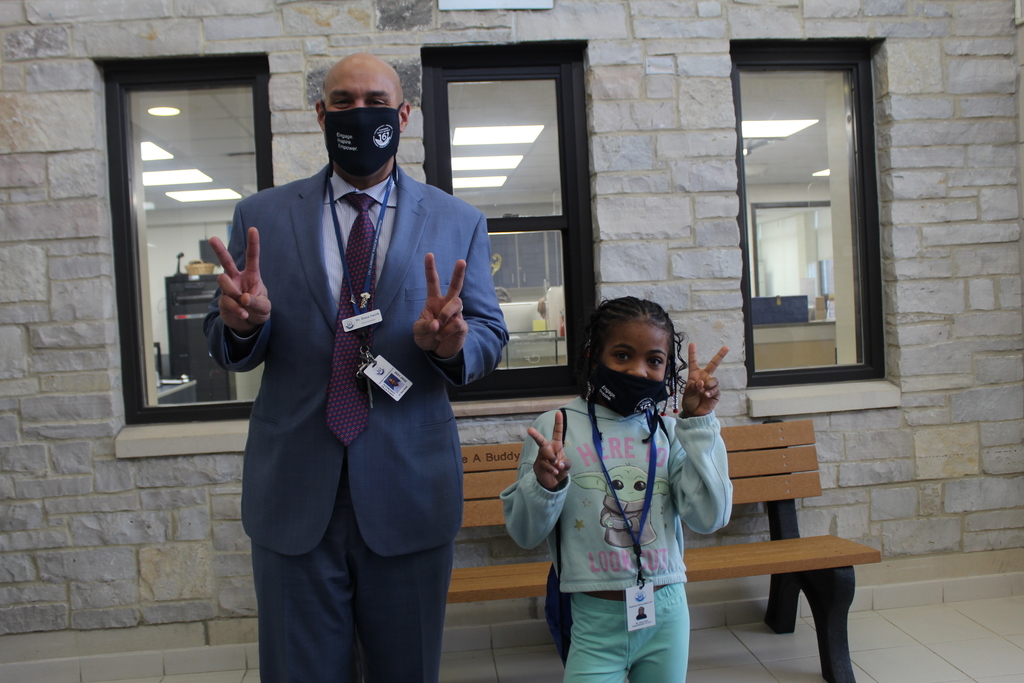 Reminder that our second COVID-19 Vaccine Clinic will take place from 3 to 7 p.m. on Thursday, December 16 at Normandy Villa. The clinic is open to all Flossmoor School District 161 and Homewood School District 153 families and staff. There will be first and second doses, boosters, and pediatric doses available during the clinic.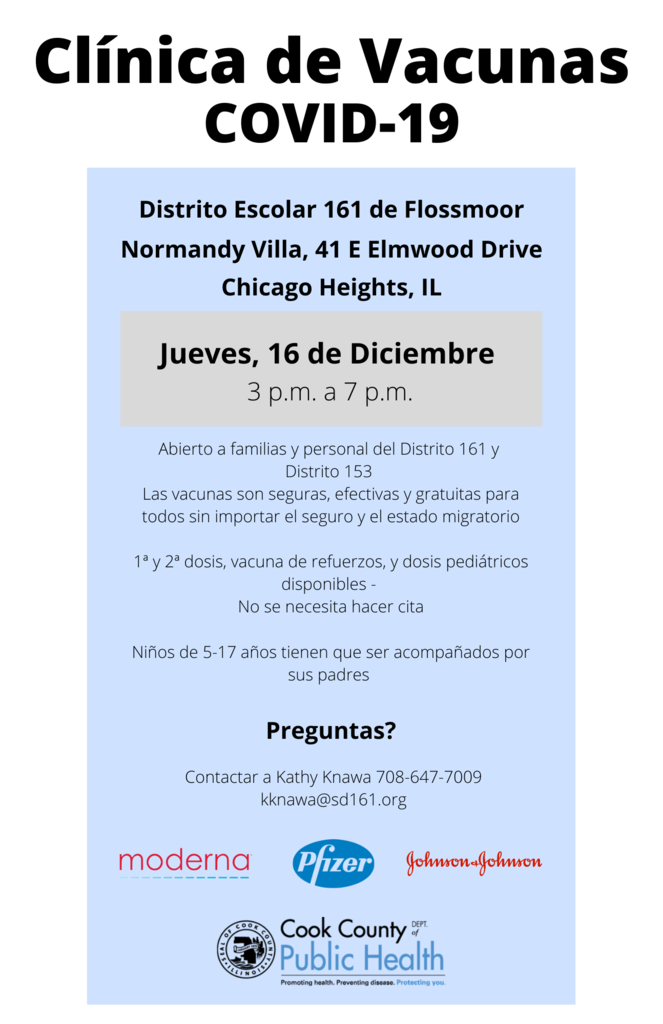 While we may see some mild temperatures this week, we all know what to expect in a Midwest winter! Please make sure to dress students appropriately for outdoor recess. This includes winter coats, hats, scarves, gloves, etc. Schools will NOT have outdoor recess when: Temperature is below 20 degrees Wind chill is lower than 11 degrees In rain or icy conditions Or in extremely high winds


We are excited to host our first vaccination clinic on Monday, November 22 and Thursday, December 16 at Normandy Villa. The clinic will take place from 9:30 a.m.to 1:30 p.m. on Monday, November 22 and is open to all Flossmoor School District 161 and Homewood School District 153 families and staff. There will be first and second doses, boosters, and pediatric doses available during the clinic. We will also be hosting a second vaccination clinic on December 16 for first and second doses, boosters and pediatric doses as well.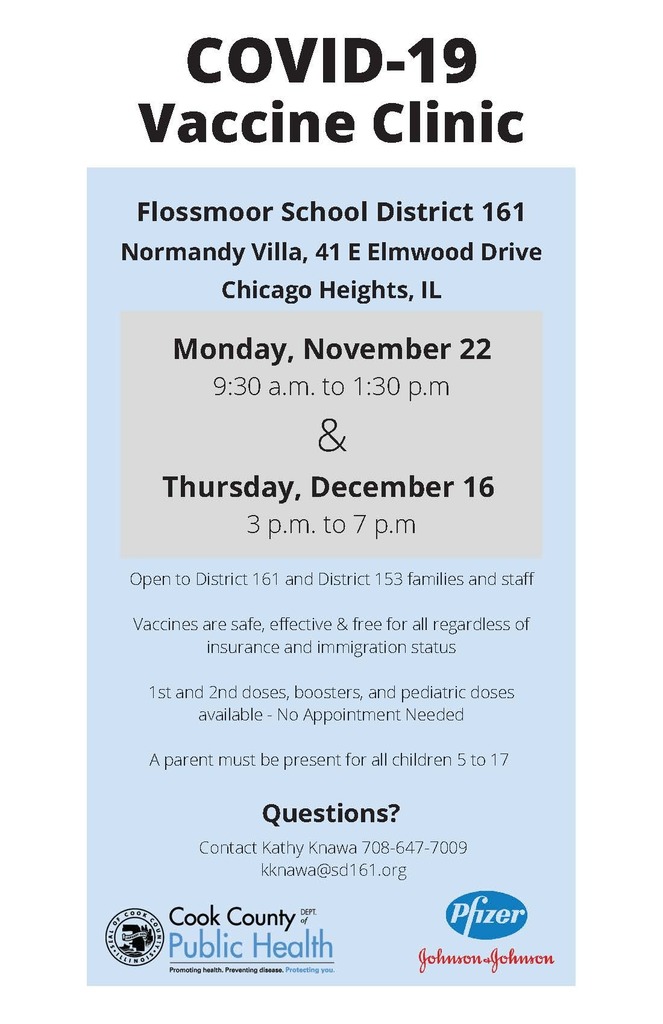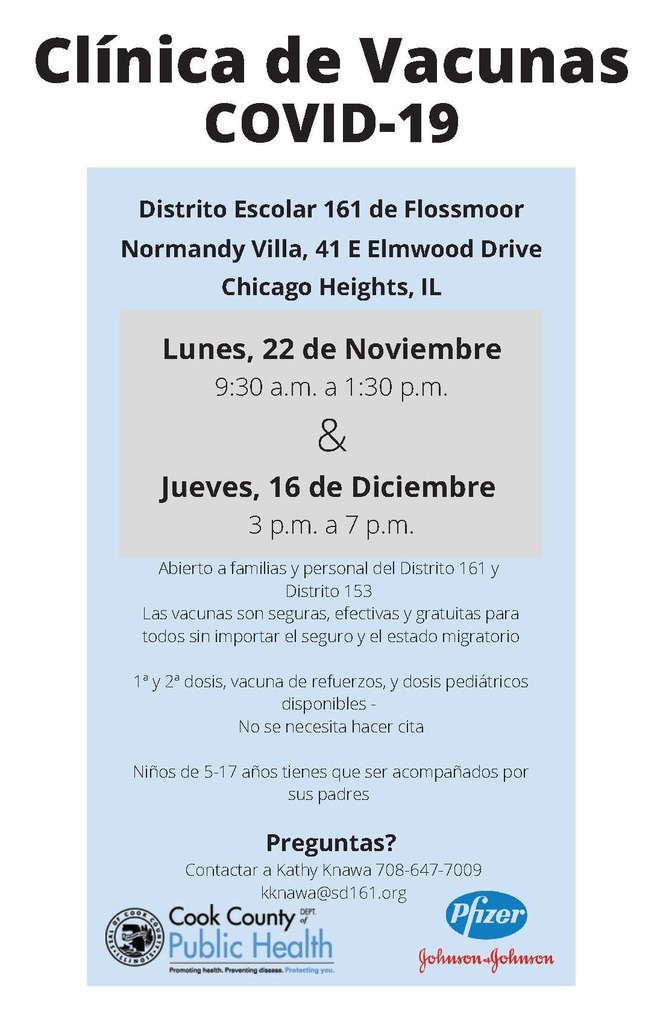 Did you know that you can recycle empty candy wrappers? Enjoy your Halloween candy and then bring the empty wrappers to the annual Pumpkin Smash to be recycled! Make your Halloween green!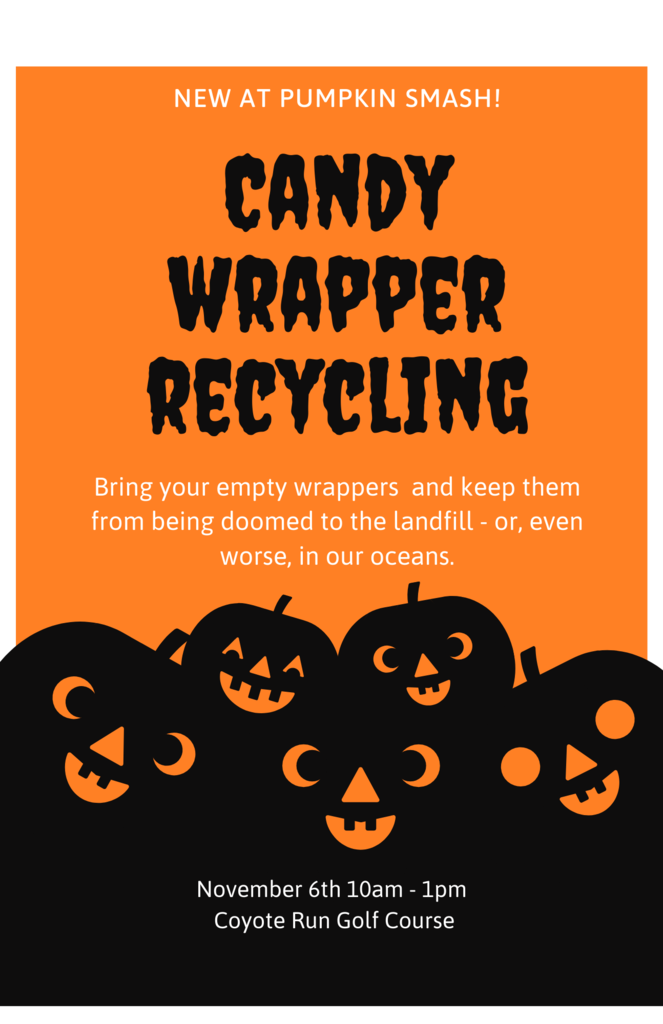 Construction is underway on drainage improvements along Evans Road and Douglas Avenue. The Village of Flossmoor contracted with M&J Underground to address storm sewer drainage issues which compound the Village's flooding issues. Installation of the Douglas Avenue storm sewer is scheduled for Monday, October 4 and Tuesday, October 5. For the safety of the construction crews, area pedestrians and vehicle traffic, Douglas Avenue will be closed to local traffic between the alley north of Flossmoor Road and School Street. This road closure will only be between 7 a.m. and 3 p.m. It is anticipated that the greatest traffic impact will be to Parker Junior High School parent drop-off and pick-up. Drivers will not have access to Douglas Avenue from Flossmoor Road. Vehicles traveling east on School Street will use Park Drive and Leavitt Avenue to access Flossmoor Road. The Village will have additional patrol and traffic control signage, including detour signs, to direct traffic around Leavitt Park to Flossmoor Road. We apologize for any inconvenience this may cause but it is essential to ensure work is completed as safely and quickly as possible.

Recyclepalooza is days away, have you gathered all of your recyclable items? There's still time! Clean out your closets, garage, attic, basement and cupboards for all types of recyclable items and bring them to Recyclepalooza on Saturday, October 2 from 10 a.m. to 1 p.m. in the parking lot of Parker Junior High. Visit
www.flossmoor.org
to view the complete list of recyclables.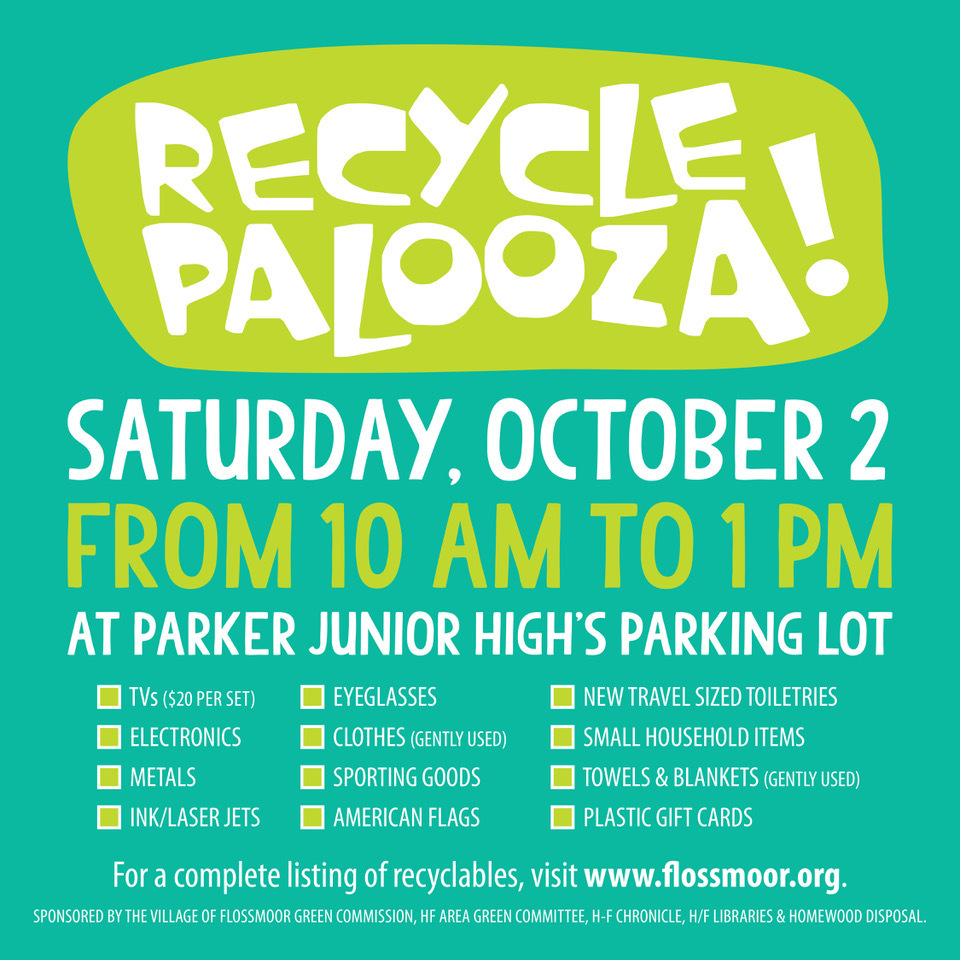 School is only a couple of weeks away, make sure you load up on school supplies to start the year off right! View the Parker Junior High supply list here -
https://5il.co/vz5c
View the K-5 supply list here -
https://5il.co/vaqb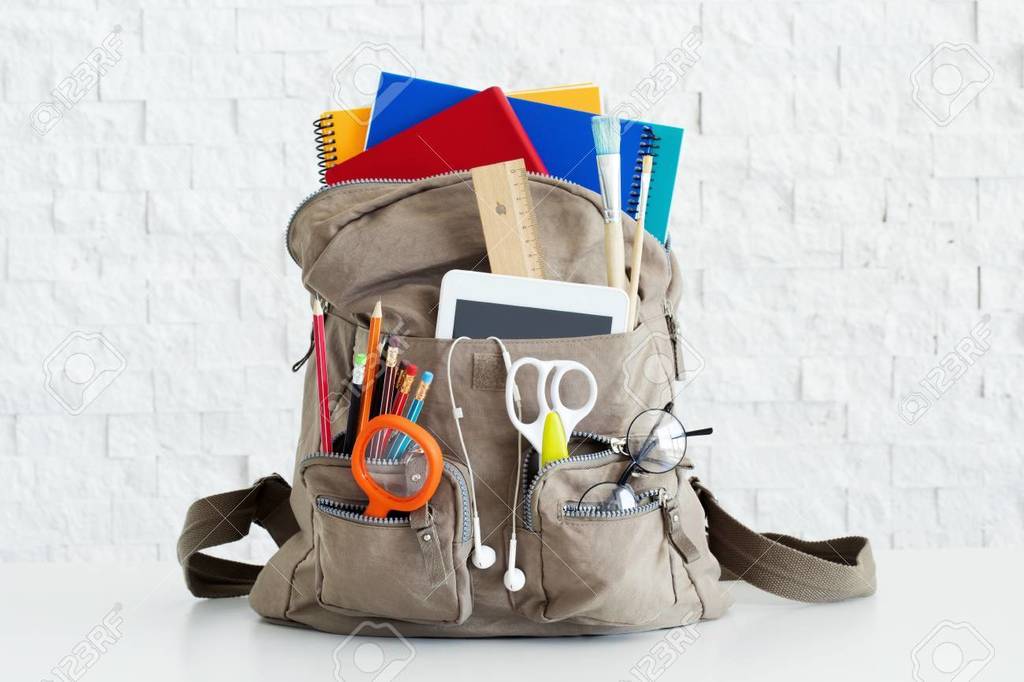 It may be the last day of school, but we still have two more retirees to celebrate! Collectively, Judy Kubas and Lisa Morrow have 70 years of teaching in Flossmoor School District 161. While the years of service to D161 students, staff and family is astounding, it's the memories and relationships they've built that will resonate for generations. Thank you to Judy and Lisa for your dedication to the mission and vision of District 161. Enjoy your well-deserved retirements!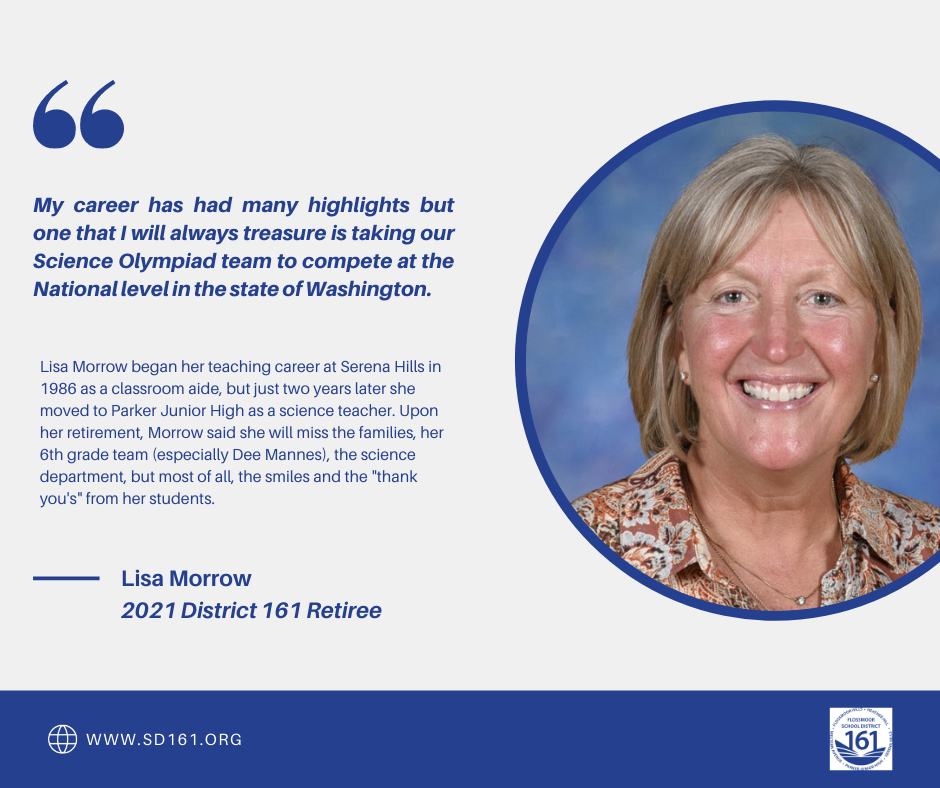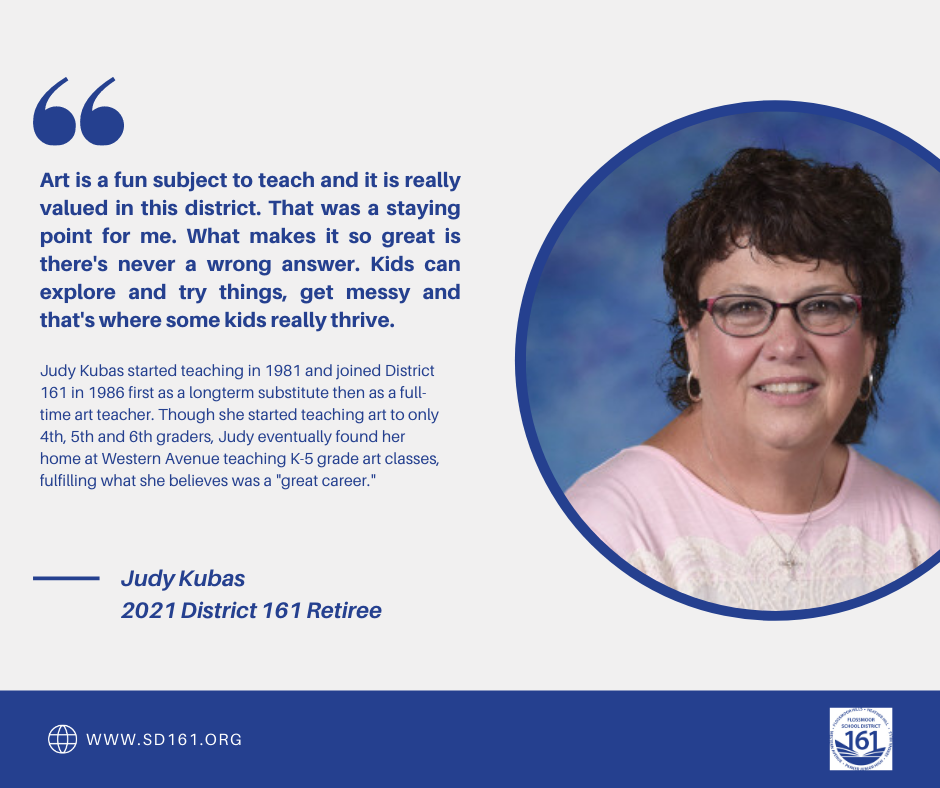 Lauren Crescenti has deep roots in District 161 not only as a dedicated paraeducator but also as a student, parent and community member. Thank you for your years of dedicated service to our students and our families! Enjoy your retirement!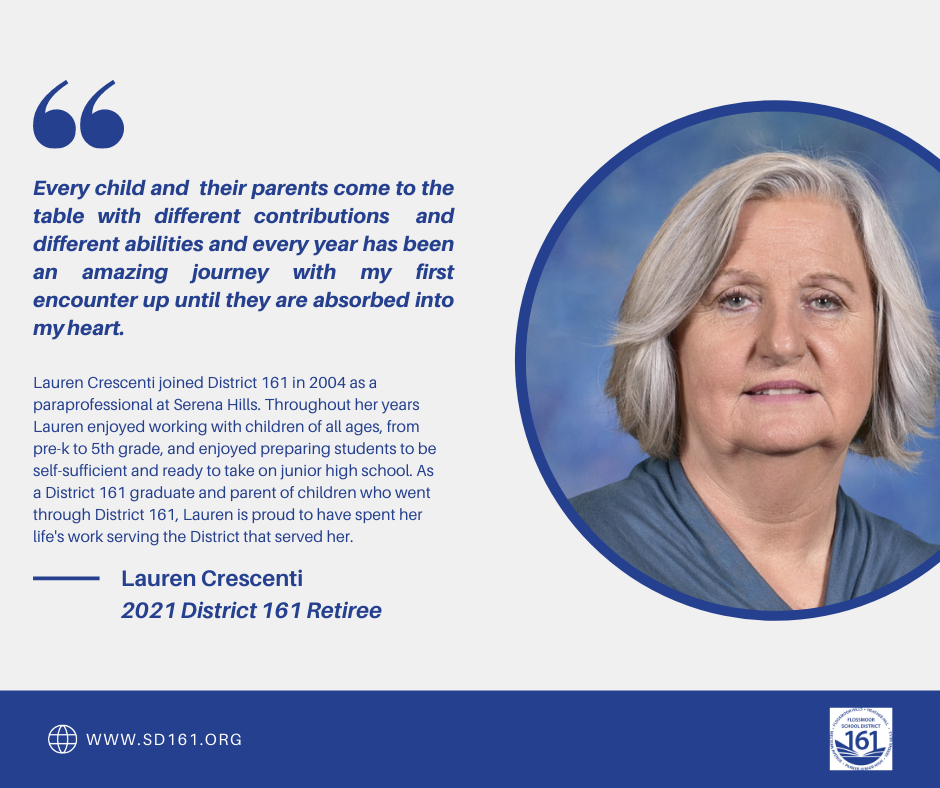 JoAnna Spevacek has left a lasting impression on District 161. She will be missed, but we wish her a happy retirement! #District161Retiree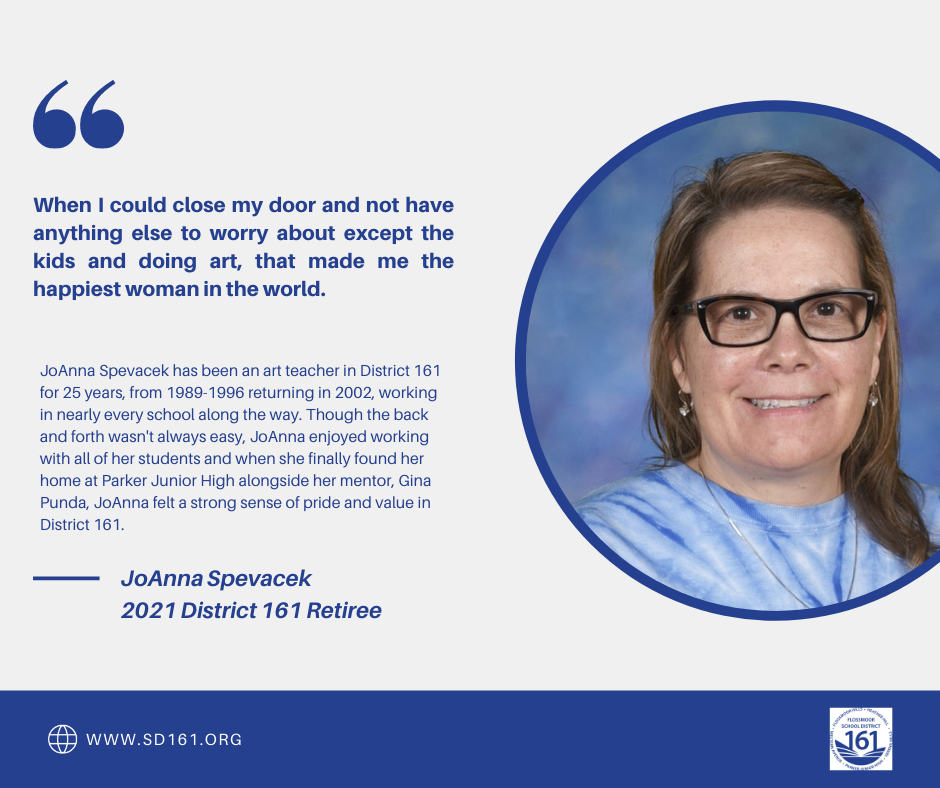 Join us in celebrating another wonderful retiree in District 161! Mr. Jones' work in District 161 has made significant impacts to our mission of educating and developing the whole child. Your contributions will be felt for years and your presence will be missed, Mr. Jones!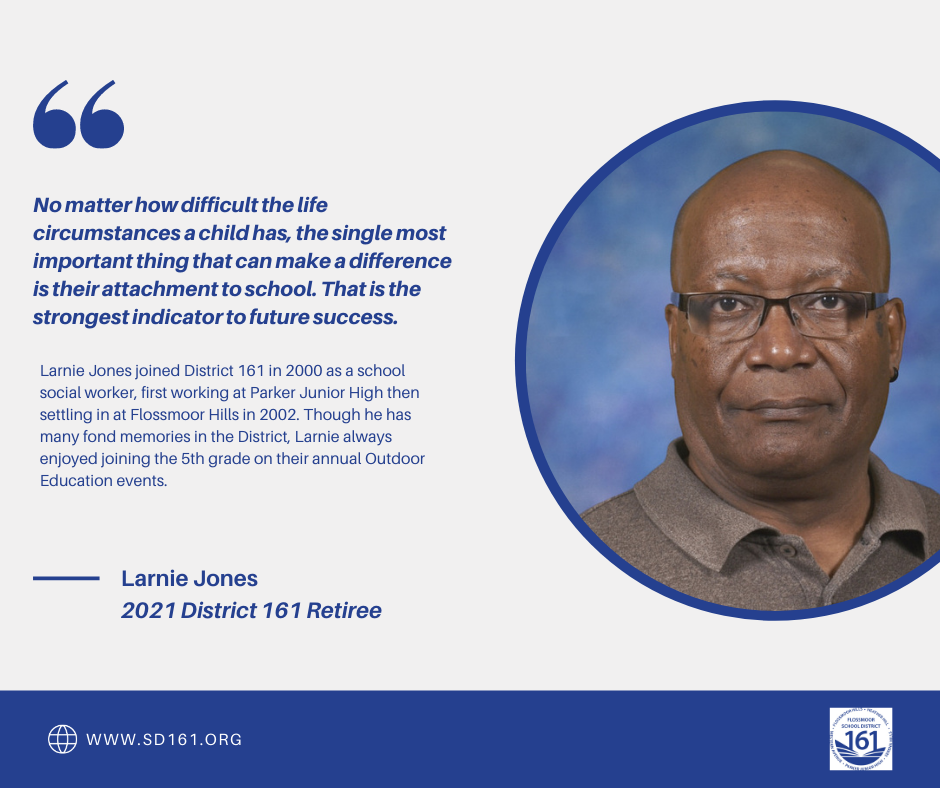 Do you have lingering questions or concern about the COVID-19 vaccine? Ask a Dr.! Live Q&A tonight from 7 to 8 p.m. with the Cook County Department of Public Health. Join at
https://bit.ly/3433b1m
or by phone at +1 415-655-0001.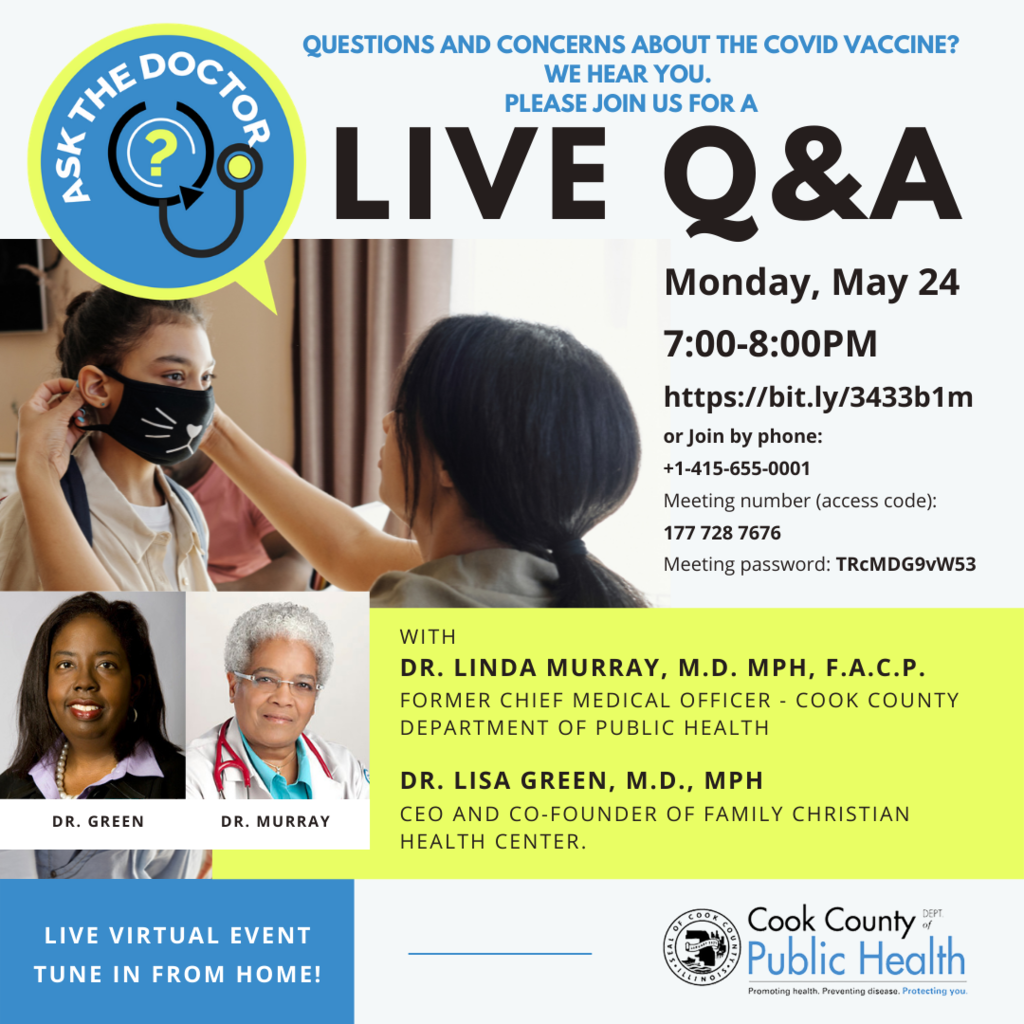 Join us in celebrating another wonderful District 161 retiree, Carol Creed! After 16 years teaching at Flossmoor Hills, we send Ms Creed a fond farewell and happy retirement!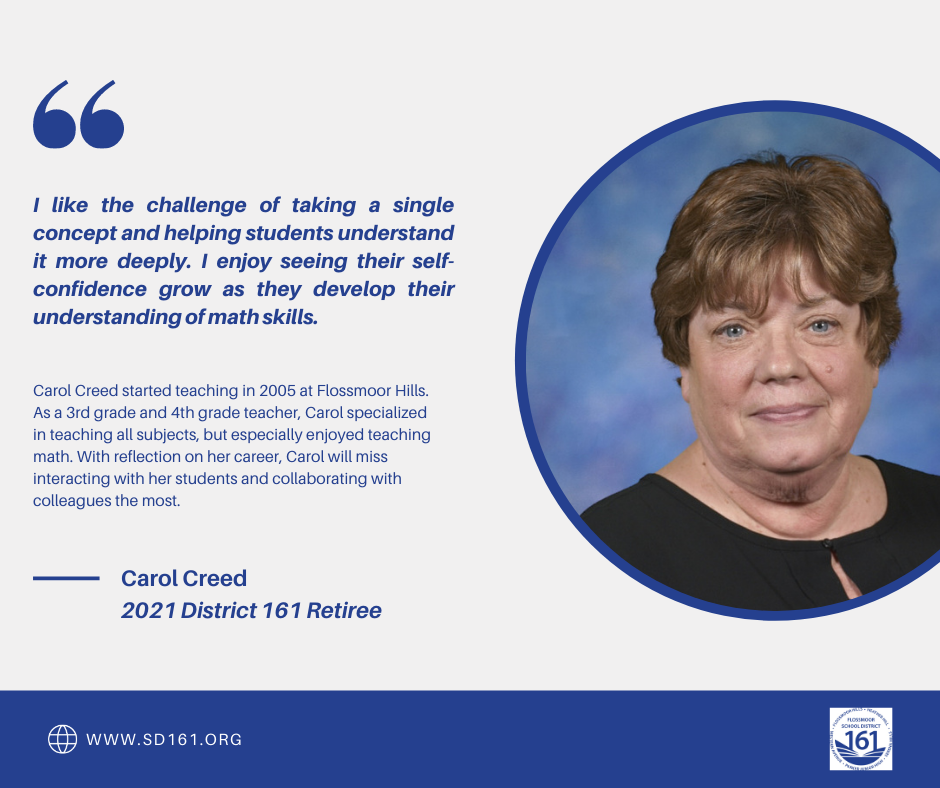 As we wind down to the end of the year, please join us in celebrating the wonderful 2021 District 161 retirees! If you see Ms Mannes around, be sure to say hello and share a congratulations!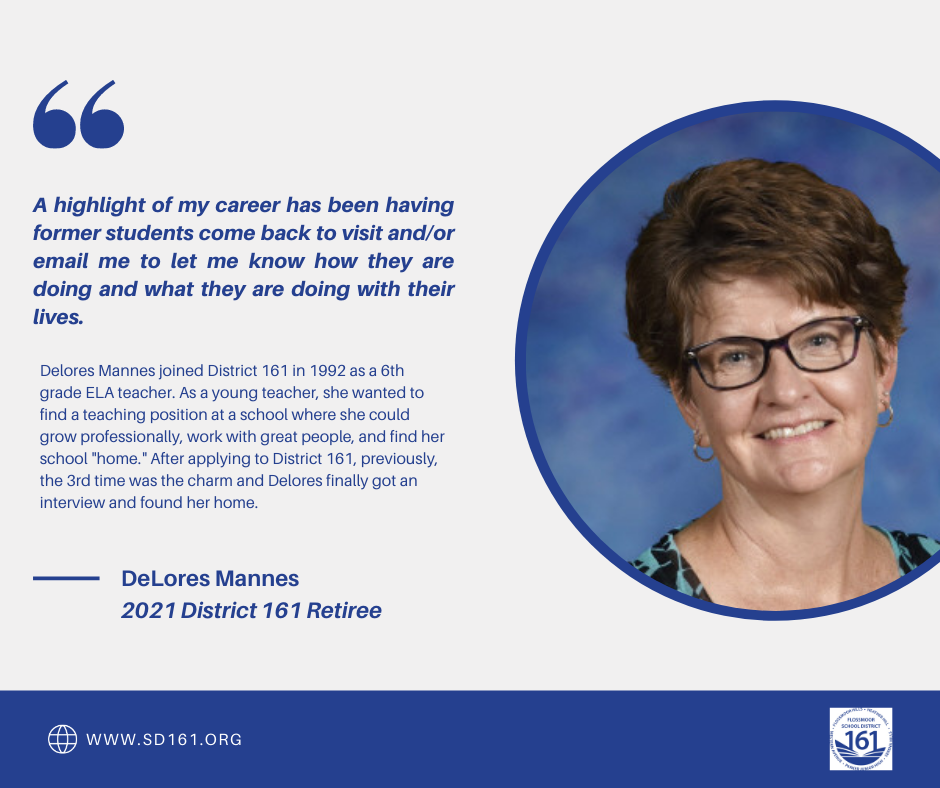 Help us celebrate our April #AboveAndBeyond winners, Pana Campbell and Ashley Rich! Congratulations on a well-deserved recognition!
https://youtu.be/AwLcUEcKHCE